There are no guarantees of spotting seals and cetaceans from the shore at Newbiggin. It is a matter of being in the "right place at the right time" and tracking social media for sightings.

A Grey Seal
The three sites at Newbiggin providing the best opportunities for sightings are:
Binoculars or a spotting scope are required with flat sea conditions offering the best chances.
Seals
Common and Atlantic Grey Seals breed in the UK, with more than twice as many Grey Seals as Common Seals, and the Grey Seal is the one most likely to be seen off Newbiggin.

Grey Seals
by Adriana Buskin
The Grey Seal breeds in large numbers on the Farne Islands and can be seen hauled out around the Farnes, Coquet Island, Holy Island and St Mary's Island.
The Grey Seal is the much larger seal, up to 2.5 metres in length, whereas the Common seal grows only to 1.7 metres in length. The Grey Seal is distinguished by an elongated "Roman Nose". The common seal has a relatively smaller, more rounded head, longer whiskers and a characteristic 'V' shape formed by the nostrils.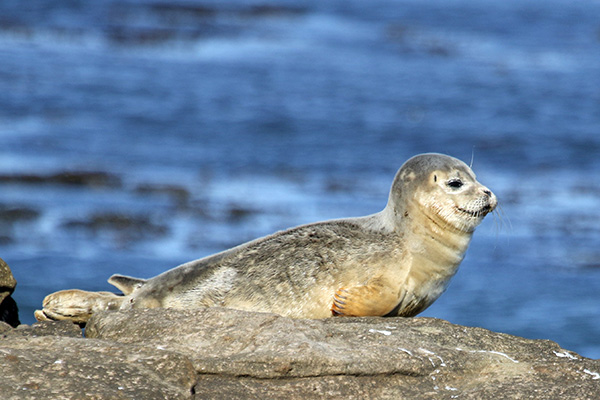 A Common Seal
Very occasionally in the UK, we are visited by vagrant Arctic seals (Bearded, Harp, Hooded and Ringed Seals and Walrus) but sightings are exceedingly rare.
Whilst it is common to see seals off Newbiggin, to get close to and to photograph seals you need to book a boat trip to the Farne Islands or around Coquet Island. If you don't fancy a boat trip, try walking to the Nessend area of Holy Island.
Cetaceans
Whales, dolphins and porpoises are known collectively as cetaceans and seeing them from the shore at Newbiggin is always an amazing experience.
The frequency of sightings differs year on year depending upon conditions (sea temperature, weather, food availability).
A Harbour Porpoise
by Martin Kitching
Harbour Porpoise are present all year and often recorded in the deep waters around Beacon Point, as well as off Spital Point.
Two species of dolphin, Bottlenose Dolphin and White-beaked Dolphin, are recorded annually, sometimes in large numbers with June to September the optimal months.
A Bottle Nosed Dolphin
by Martin Kitching
During 2017, fifty Bottlenose Dolphins were recorded passing Beacon Point on the 30th August; whilst on the 7th July White-beaked Dolphin, Bottlenose Dolphin, Harbour Porpoise and Minke Whale were all recorded at Beacon Point!

White Beaked Dolphins
by Martin Kitching
Minke Whale is recorded annually off the Northumberland coast during summer and most years recorded in the seas off Newbiggin.
Cetaceans are not easy to observe. Sightings are mostly at a distance and then only when they surface to breathe, feed or display. By far the best way to get close to dolphins is by boat. Northern Experience Wildlife Tours (NEWT) is run by Martin Kitching, who is also the North East Regional Officer for MARINElife, a marine conservation and research charity which has developed a catalogue of individual White-beaked Dolphins off the Northumberland coast (well over 100 individuals catalogued from photographs going back as far as 2003!). Every year, NEWT run a programme of pelagic cruises looking specifically for cetaceans. These range from 4 hour evening cruises to full days out to the Farne Deeps.

A Minke Whale
by Martin Kitching
"I signed up for a 4 hour evening cruise and enjoyed the run up the coast from North Shields to Druridge Bay. The sunset was magical. We saw a pod of White-beaked Dolphins, Harbour Porpoise around the Tyne piers and, best of all, two Minke Whales.
A longer trip to the Farne Deeps was even better and surpassed all expectations. 70 White Beaked dolphins surrounded us, twisting and turning alongside the boat, bow riding and breaching. Unforgettable". Hector Galley